UAE Drift Adventure Pt.1
There's only so much you can put in pictures from this trip to Dubai that we just had! I think a full length DVD is whats needed to get all the bizzarre and awesome stuff across to you guys!! But, I can't do that so i'll have to make do with a few blog posts instead!
Myself and Carpo travelled over a week earlier than the rest of the drivers and teams were due to show up, with the hope of getting some PR work done before the event and also to help out with the local drift scene in the UAE.
We met up with Niall Gunn and Paul McCarthy of JDM Allstars as soon as we got in and we were lucky enough to have a few local drift nutters on hand to show us around Dubai and also the madness that no other average tourist would ever see!
Our first port of call was to head to the venue to check everything out!! What an amazing place! A huge shopping centre surrounded by a marina with awesome views of Dubai in the background! By far the most exotic place I've ever drifted at!
One of the first nights of our trip we were picked up at our hotel and promised some Arab Drifting in the desert of RAK!! Madness is all I can say. For the rest of the guys in Ireland, the only way to describe it is, it's like an underground cruise in a carpark on steroids, with 1000bhp jeeps and cars just going crazy. There is some method to their madness however as it is judged….. how??? I have no idea!!
We visited Yas Marina circuit to check out one of their drag nights! Yas Marina is by far the most awesome motorsport facility in the world! As soon as you drive through the gates your blown away by the scale of the place! Just amazing and if anyone gets a chance to visit, dont think, just go!!
The drag strip is surrounded by stands that echo the sound like nothing i've heard before!! The variety of the motors heading up the strip ranged from full on top fuel cars, to R35 Skyline's(which were everywhere in the UAE) to jeeps running 10second et's!
Another part of the PR job was to visit the many tuning shops around Dubai. I think in all we hit up something like 15 shops. With crazy machines ranging from Clio's all the way up to the uber rare Ferrari F40 that was hiding in one garages corner! Amazing!
With the cars still not out of customs we had a few days to chill in Dubai and got to see some amazing places. JBR is one of the more posher parts of Dubai with a real chilled out atmosphere. It was a great place to relax and grab a bite to eat and check out all the exotic motors driving up the strip. After an hour I had seen countless Lambo's, Porsche's, Ferrari's and even a few McLaren SLR's. Deffo a step above the motors of Ireland
We returned to Yas to a local SSK drift event. Our main aim here was to help the guys with their track set up,  drifting technique and also the in's and out's of setting up a car for drift. At the minute the UAE is equivelent to what our scene was about 5-6 years ago. They like to build their cars with high horsepower but set up seems to be over looked. These guys have talent and with a basic drift set up on their cars it wouldnt take long for them to be up their with our guys!
The rest of the drivers arrived the Wednesday before the main event, spirits were high but the cars had still not been released. Trying to get anything done in and around Dubai seemed to be impossible and through no fault of the organisers the cars would not be released in time for the event. This was obviously the biggest low of the trip and in everyone's faces you could see the heartbreak.
That night all the drivers and organisers met and talked through what we could do. The easiest thing would have been to call it quits and put the blame on the local authorities. But, no one was having any of it. We weren't going home with our tails between our legs after putting in so much effort and travelling so far to get there!! Everyone pulled together as a group and decided, as long as the cars were out before we were due to fly home on Sunday, we would stay on an extra week and put on a show that everyone deserved. To me this was one of the most amazing things that I have witnessed and I was delighted to be apart of it! These guys were f*ckin awesome!
So with the paperwork finally sorted our cars were promised out on Sunday!! 2 days after the original event was due to be on. A handful of us headed to the port at 8am and everything went to plan. The containers were unlocked and unloaded. The stir around the port these cars caused was rediculous. I happened to get chatting to one of the local port chief's and he wanted to see what these cars could do, so, without hesitation I was happy to oblige and do a few skids in the port around the containers……check out the video below….. Dubai, your a crazy crazy place!!!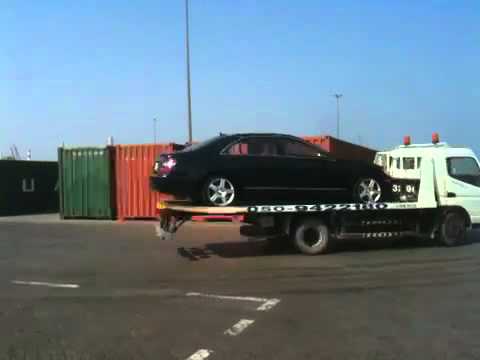 After a full day of waiting on trucks we finally managed to get all the cars to the track!! What an awesome feeling to finally have them all there and ready to put on the biggest Professional Drift show the UAE had ever seen!
Thats enough for now I think!! Check out part 2 coming soon!!!
Nigel !